Optopro is an IT-solution for managing and building high quality FTTx networks.
A system for managing and securing quality in FTTH projects.

A realtime IT-solution for design, construction, installation and documentation.

A platform for online interaction between network owners, project managers, planners and field staff.

Up to date duct schemes, fiber splice schemes, information of end users, blowing schemes, technical specifications.

Field staff check every operation in mobile devices.

Field staff upload up-to-date documentation.

Remarkable Project management efficiency.

Project management gets control over progress and economy in real-time.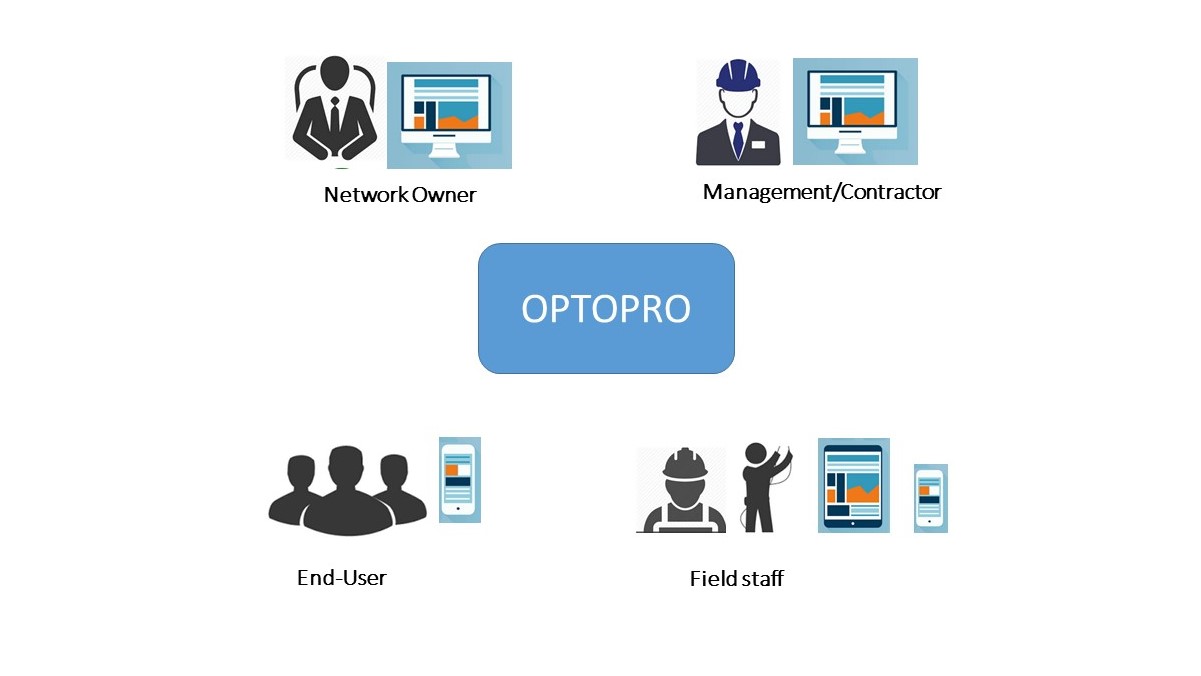 Manager and Planner set up project in office.

Installers, excavator and digging staff gets up-to-date schemes and information in mobile devices.

All operations is daily checked and uploaded to Optopro.

Project manager gets full control of project progress.

All staff gets instant information of changes in maps and scheme.

Client can easily follow progress.
Here are some common problems in traditional FTTH projects.
Management wants better control over progress, time schedule, logistics, economy.

Do we keep budget? Not sure, we will see after the project complete!

Hard to manage resources due to lack of proper information.

Final documentation not accurate.

Paper maps in the field – not up-to-date.

Uncertain Technical specification for staff.

Missing otdr-files, readings, photo documentation.

Hard to monitor KPI's from production.

Management wants better control over deviations and additional work and costs.
Optopro gives you a countless benefits in the deployment of the FTTH projects, below are the few of them.
OptoPro reduce staff and project costs.

Higher quality in FTTH projects.

Digitizing the FTTH field works.

Overall better management and control of multiple projects simultaneously.

Accurate Documentation at any time – "Magic Button".

Up-to-date information for management.

Up-to-date information for workers, trenchers & technicians.

Up-to-date information for end customers.

Up-to-date information for clients/network owners.

All staff and subcontractors personally register every operation. If any complain: Easy to follow up responsibilities.

Built-in Self-control.

Network Owners/Clients/End-Users get overall easy follow up on Progress.

One project manager can double up quantity of projects.

Optopro includes more than 100 functions for different needs in FTTH.

Optopro co-developed with Swedish FTTH turnkey contractor.